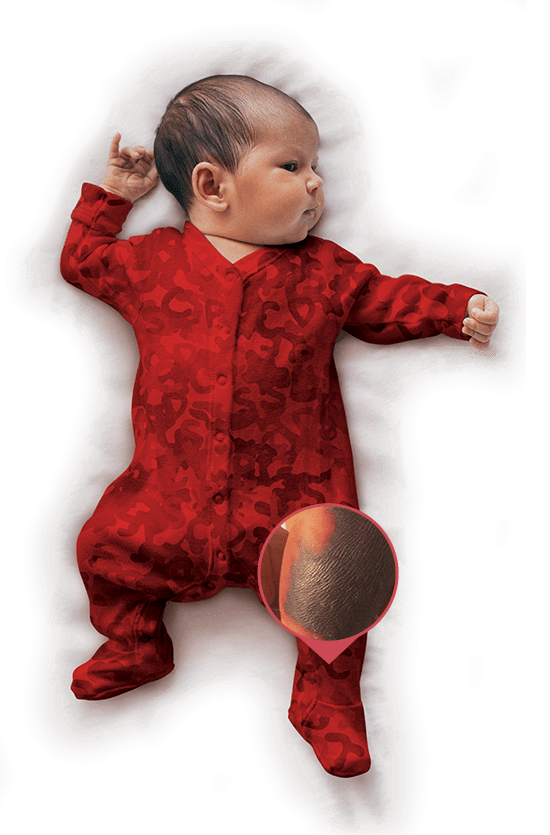 Lesão de púrpura fulminante na panturrilha esquerda do recém-nascido
Esta é uma representação fictícia de uma criança com púrpura fulminante, devido à natureza rara da DCGPC, pacientes são difíceis de encontrar.
A Deficiência Congênita Grave da Proteína C (DCGPC) é uma doença autossômica rara que causa um alto índice de mortalidade inicial e morbidade a longo prazo nos que sobrevivem.1
Em neonatos, a DCGPC pode se manifestar precocemente, a partir de 2- a 12 horas após o nascimento, como púrpura fulminante com necrose da pele, coagulação intravascular disseminada, trombose venosa e arterial2-3
LEIA MAIS
Algumas vezes, a púrpura fulminante
pode mascarar a DCGPC.
Mesmo que a causa mais frequente de púrpura fulminante em neonatos sejam infecções agudas graves e sepse associada, a Deficiência Congênita Grave da Proteína C (DCGPC) também pode levar a esse distúrbio, com lesões que aparecem de 2 a 12 horas após o nascimento.1,2 O exame de proteína C realizado em tempo hábil pode ajudar os médicos a diagnosticar e controlar essa condição rara, permitindo um tratamento rápido que pode reduzir a morbidade e salvar a vida dos bebês.2,3
LEIA MAIS
REFERÊNCIAS:
Chalmers E, et al. Purpura fulminans: recognition, diagnosis and management. Archives of Disease in Childhood. 2011;96(11):1066-1071.

Price VE, et al. Diagnosis and management of neonatal purpura fulminans. Semin Fetal Neonatal Med. 2011;16(6):318-22.

Marlar RA, et al. Report on the diagnosis and treatment of homozygous protein C deficiency. Report of the Working Party on Homozygous Protein C Deficiency of the ICTH-Subcommittee on Protein C and Protein S. Thromb Haemost. 1989;61(3):529-31.